You're looking at a professional when it comes to finding beautiful artificial plants. I was gifted with a brown thumb so my home is peppered with artificial plants that are designed to look real. Some may judge, but you can't argue with qualities like low maintenance, easy to clean, and affordable to boot. If you want even more artificial greenery, I suggest you hop over to The Real Guide To The Best Faux Plants.
This post was updated on March 31, 2021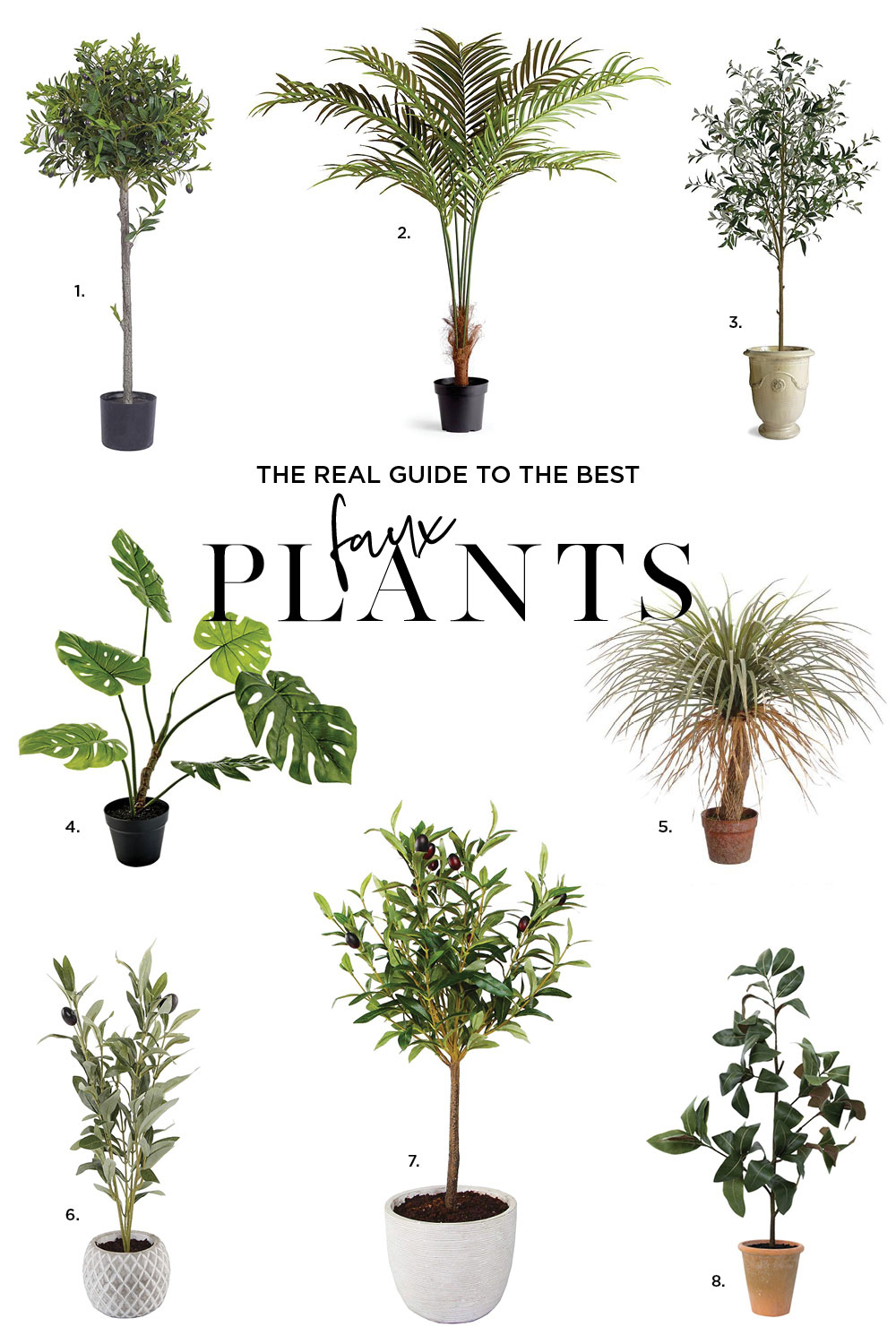 I bookmark every beautiful artificial plant I find because anything real silently screams and prays for Hilton Carter to swoop in for safety. Watering duties are forgotten. Hauling pots to the tub is a chore. I'd much rather give mine a dusting or a good shake outside once a month. BTDubs, if yours are really dusting, this is the best cleaner to keep your artificial plants looking beautiful that I've found. Simply spray it and let it drip dry on the patio. Easy peasy.
Shop The Best Artificial Plants Here
1 – Artificial Silk Tree Olive Plant – sold out
2 – Artificial Palm Tree – sold out
3 – Artificial Olive Tree– sold out
5 – Artificial Desert Palm Tree
7 – Artificial Olive Tree In White Pot
8 – Potted Magnolia Artificial Tree – sold out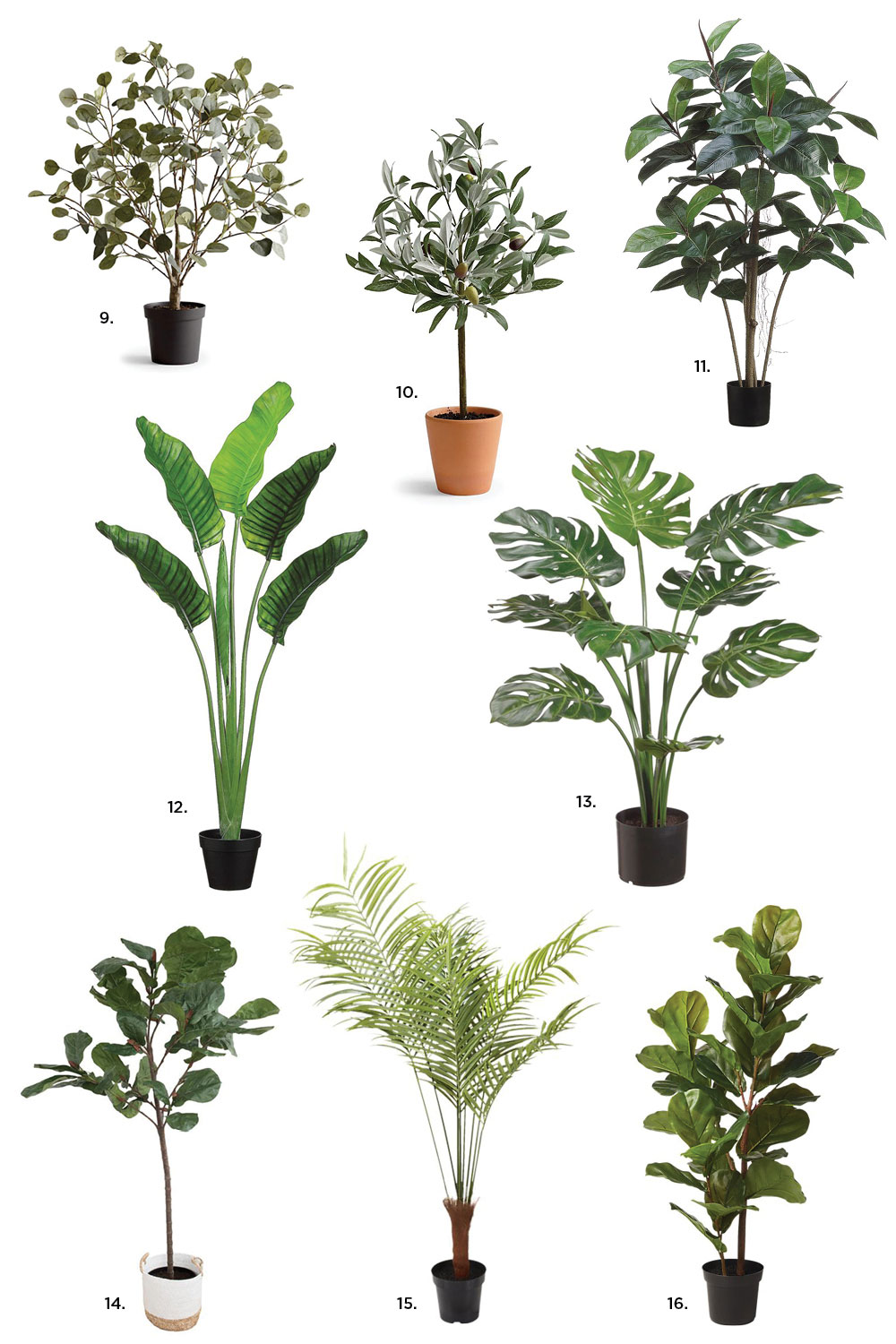 More Artificial Plants Here
9 – Eucalyptus Leaf Potted Artificial Plant – sold out
10 – Artificial Olive Topiary – similar here
11 – 4′ Artificial Rubber Tree – sold out
12 – Potted Bird Of Paradise Artificial Plant – similar here
13 – Potted 3' Monstera Artificial Plant – similar here
14 – Potted Fiddle Leaf Fig Artificial Tree – similar here
15 – Potted Artificial Palm Tree
16 – Fake Potted Fiddle Leaf Fig Tree – similar here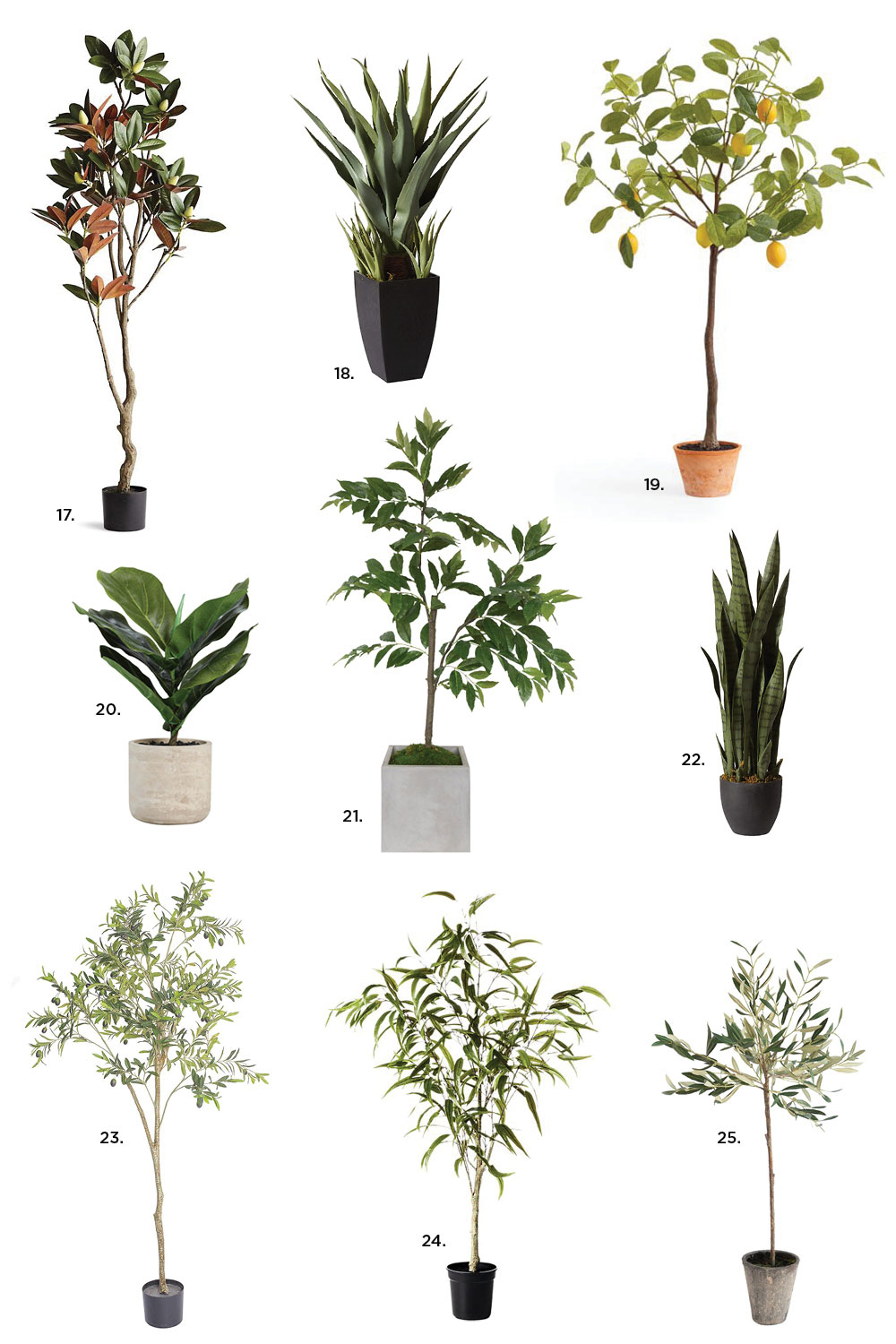 Where To Find The Best Artificial Plants
17 – 7′ Artificial Magnolia Tree – similar here
18 – Artificial Plant Agave with Black Planter
19 – Artificial Potted Lemon Tree – similar one found here
20 – Artificial Fiddle Leaf Fig Plant in Cement Pot
22 – Artificial Snake Plant aka Sansevieria Plant
23 – Artificial Olive Tree Plant – similar here
24 – Artificial Potted Eucalyptus Tree
25 – Artificial Potted Olive Tree

The best faux olive tree is #25, and if you click that link, you'll find a complete round-up. It's the same artificial plant I purchased for my home gym during the One Room Challenge. The olive tree has been embraced by interior designers over the last year, and I believe it might be the new fiddle leaf fig tree when it comes to home decor.