Closets…they're boring, right? They don't have to be. Miles Redd changed my mind when I heard him speak at the Design Influencers Conference last Spring. His argument, in a nutshell, imagine yourself as a guest, standing in a foyer. The homeowner says, "May I take your coat?" The closet door opens and shazam! Tiny jewelry box surprise hidden inside.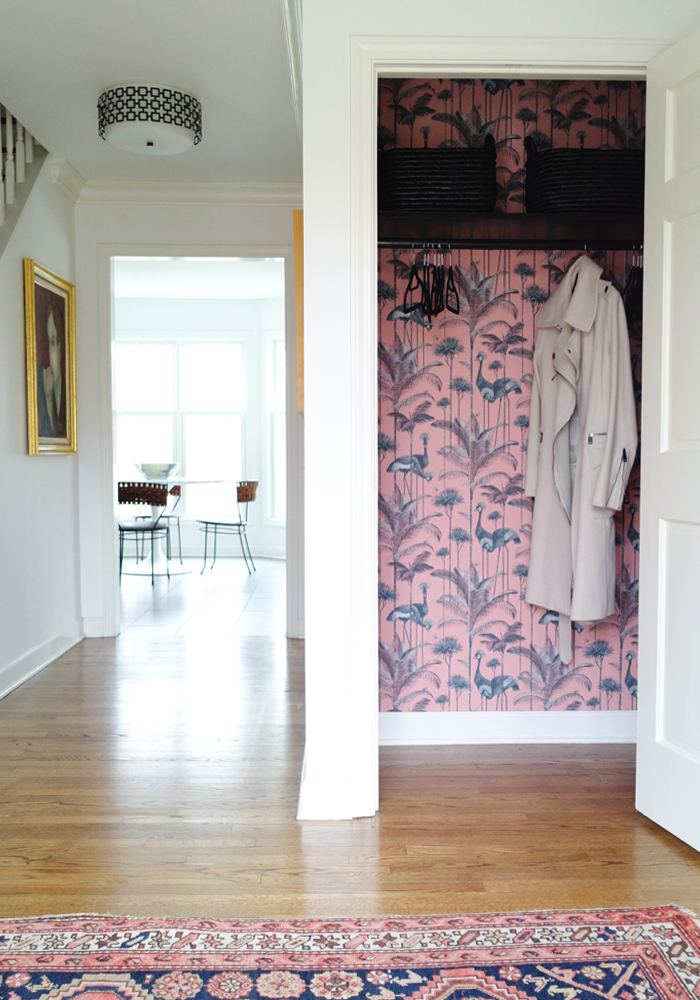 MORE AFTER THE JUMP…
This idea swam around in my brain all last year, and I searched for just the right wallpaper to bring it to life. While perusing Instagram, I stumbled upon Divine Savages Crane Fonda pattern. This ain't your grandma's wallpaper. ERMERGERD pink pattern play perfection.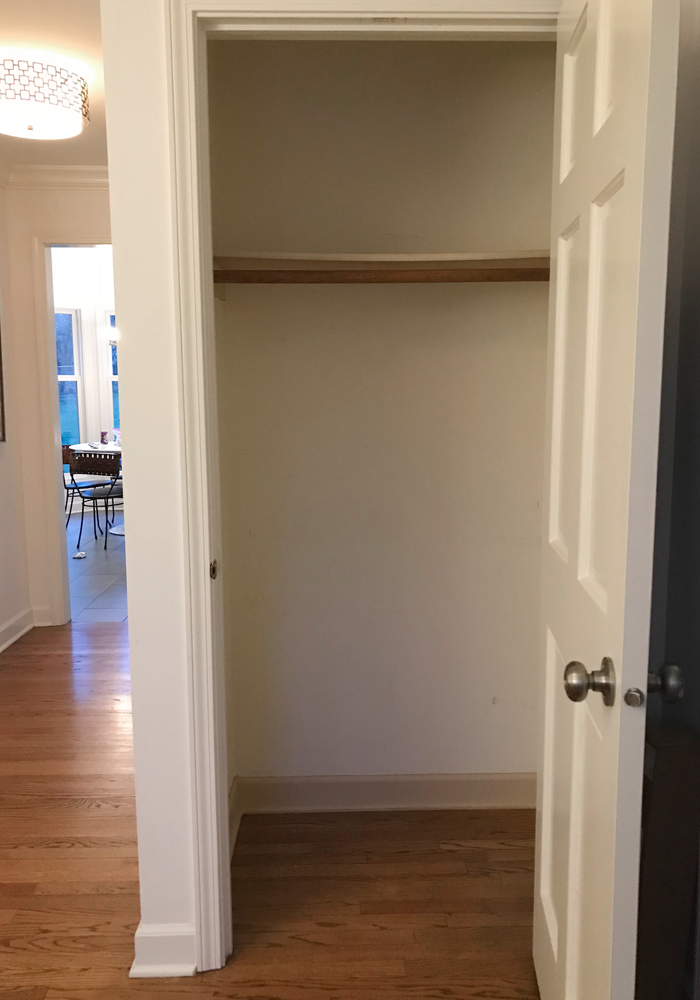 Now, please note, I've never wallpapered anything in my life. I've paid someone to do it, but a DIY no. Nervous was an understatement. The paper arrived right before the holiday party I was hosting, and I told The Boy Crane Fonda must be installed before that Thursday at 7pm. Thrilled he was not.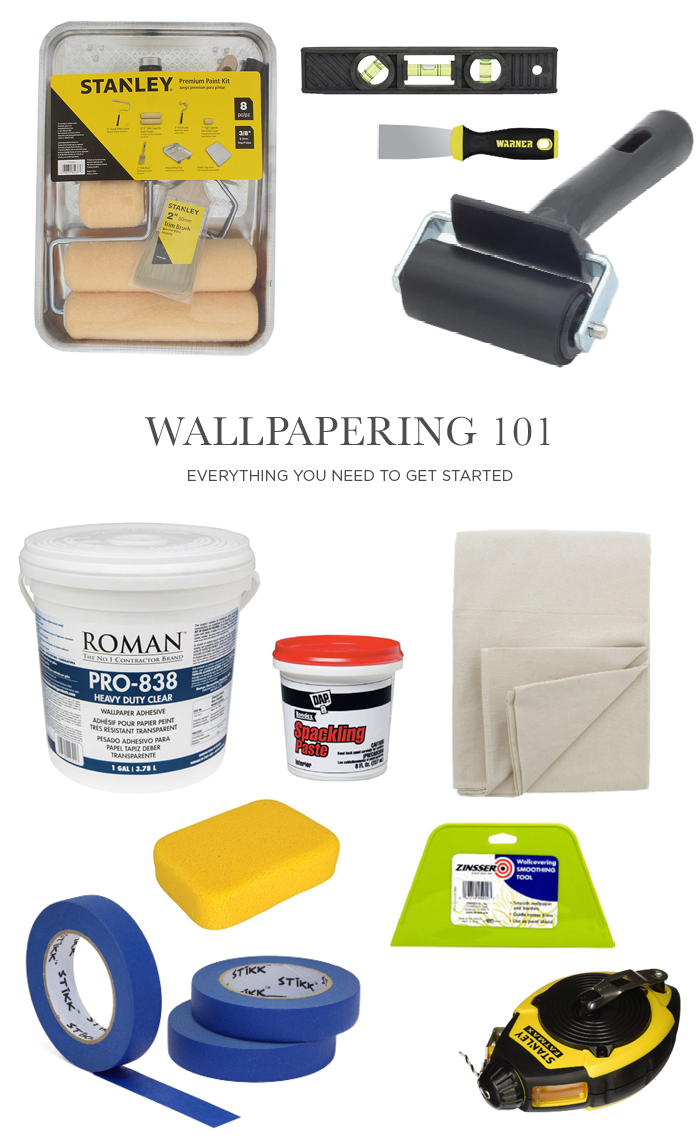 I made a list of everything I needed for the project, and he headed out to Home Depot. Again, unthrilled. Meanwhile, I Googled wallpapering 101 how to's. It looked easy enough. Slap on some paste, press and smooth.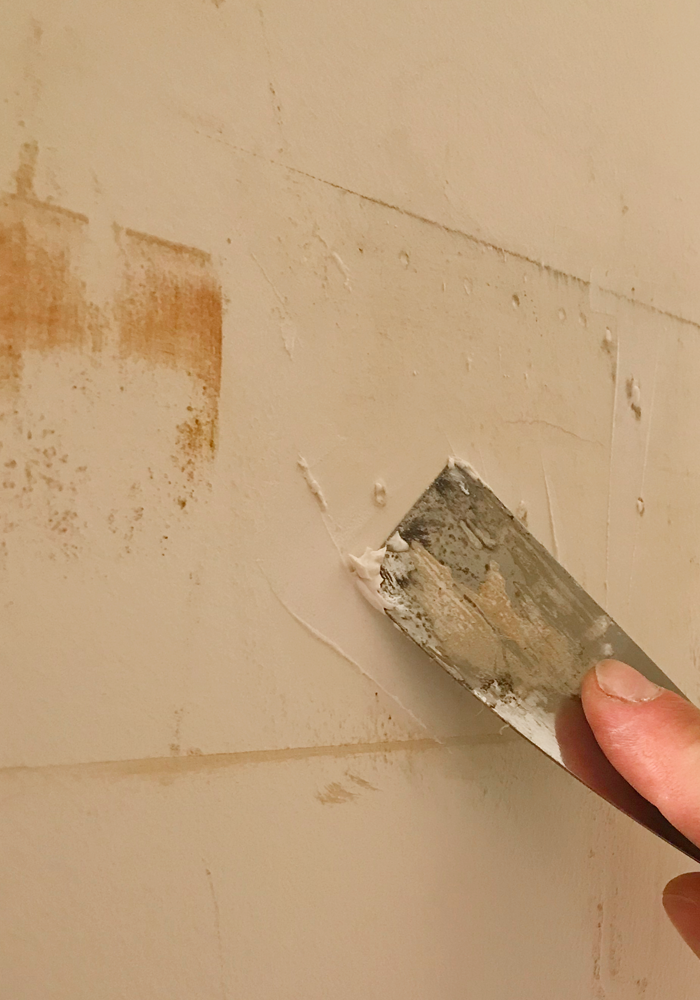 The Boy returned somewhat empty handed with the look of fear on his face. The gentleman behind the paint counter scared of the task at hand. He said, "Kyla, I really think we need to hire someone for this project." SRSLY?!?!?!? The party is only a few days away, and I have no clue who to call…besides…it's like 5 pieces of wallpaper that need to be hung. YOU can do this! And that my friends is how to get your husband to hang your wallpaper. He went back out for the remaining supplies and returned home muttering and sweating profusely. Clearly, he was more nervous than I was.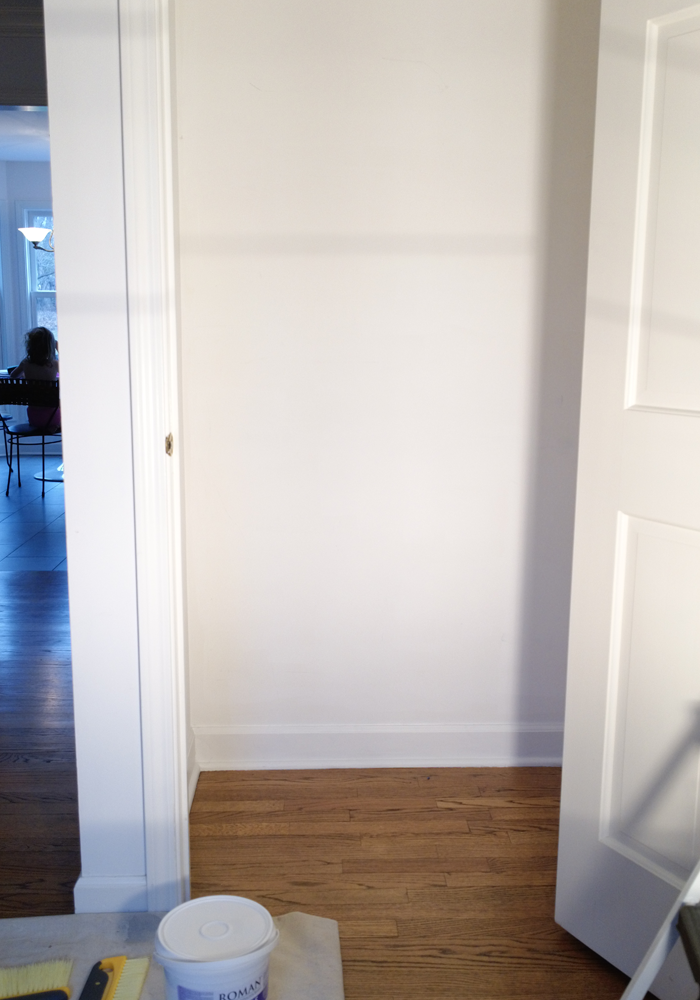 After watching more how to videos…thank you Google…we set up shop in the foyer. I became the cheerleader slash assistant. Here goes nothin'.
Now, I have this horrible reaction of laughing when I'm scared, nervous or someone gets hurt. To boot, The Boy is full of dry sarcasm which can make me laugh even harder. "Fat guy in a tiny room", got me big time. Tears streaming down my face, laughing. I don't know how I didn't pee my pants. The first panel went up and it looked a-mazing! Even more sweat and swearing ensued. Uh dude, calm yourself…besides you're doing great!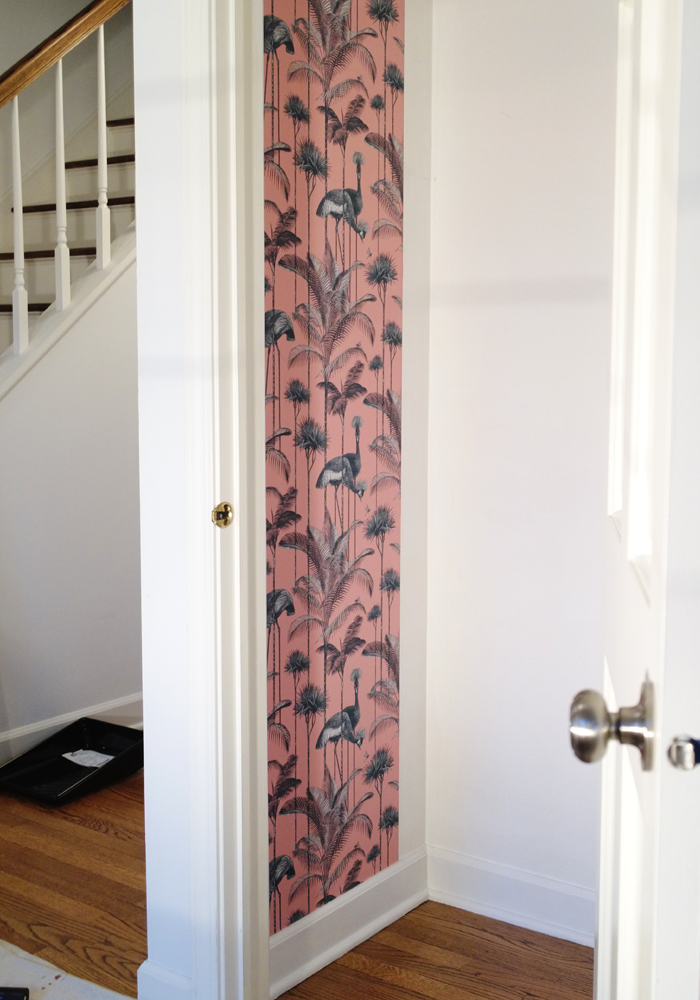 Looking back on it, wallpapering a tiny coat closet was slightly hectic, to say the least. The space was tiny, dark, and every panel had a corner. It was probably one of the most difficult spaces in the house. Was it worth it? Absofreakinlutely. Miles Redd, you sir are a genius! Was the closet a hit for the party? Yes, indeed it was. Would I do it again? Fo sho without a doubt. It's a great way to make an organizational space super fun, and the fancy florals and bold graphics add a bit of hummena, hummena, hummena to what's normally boring and bland.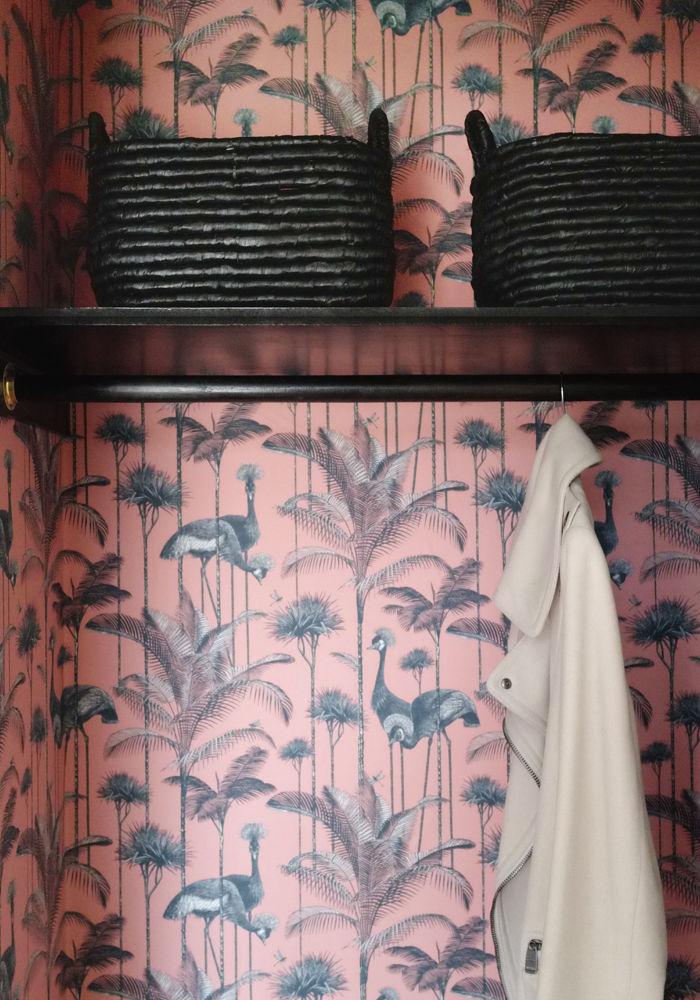 To finish off the look, I painted the existing rod and shelf in a high gloss black paint and added black baskets (on sale now) and black coat hangers. It was a hit at the party!
Would I change anything? Yes. I'm thinking about having an electrician install lighting. That top shelf feels a bit dark but for now, Imma save my pennies. I'm also searching for a new doorknob. I think the jewelry box needs something a bit extra.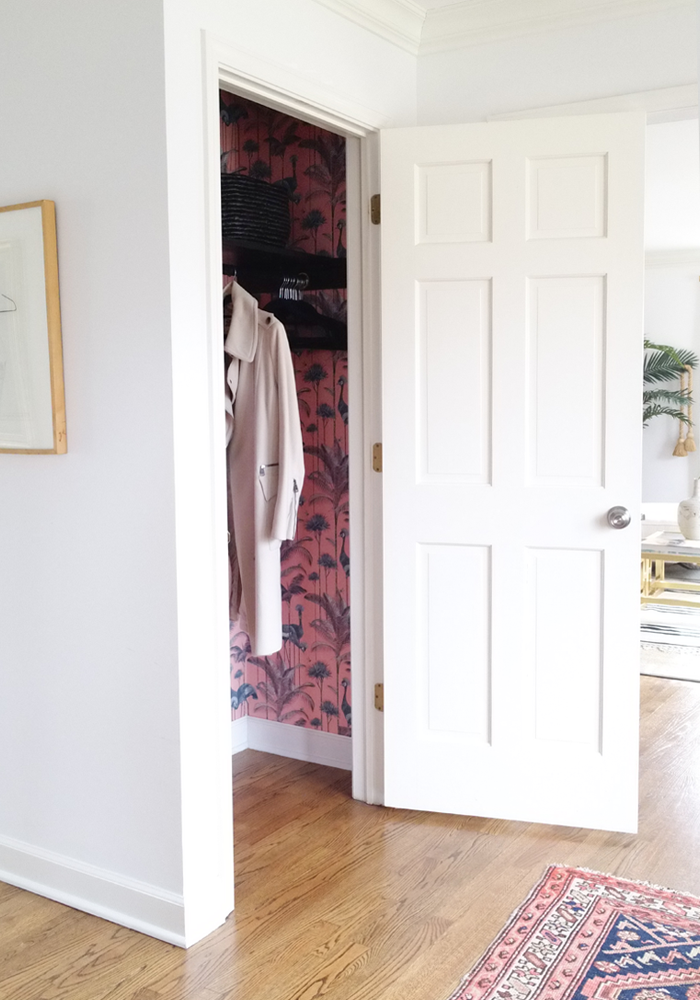 If you're looking for bold, quirky, and playful wallpaper, give Divine Savages a looksy. I've got my eye on Safari Soireé for my next project. A giraffe wearing a suit. A tiger dancing with a flamingo. A zebra doing the can-can. Mind blown.
WHAT YOU NEED:
• Wallpaper – Crane Fonda
• Drop Cloth
• Painter's Tape
• Primer
• Spackle
• Paint Scraper
• Plumb Line
• Wallpaper Paste
• Smoother
• Level
• Paint Roller
• Paint Tray
• Seam Roller
• Tape Measure
• Pencil
• Sponge

The condition of our closet walls was good. A bit of spackling and sanding was required where we removed the existing rod and shelf. To ensure your wallpaper adheres properly, prep your walls with an acrylic primer or sizing.
Once your walls are dry, draw a vertical plumb line using the level and pencil. Measure the height of the wall from floor to ceiling. Add 4″-5″ to the length to allow for final trimming. Cut your paper.
Prior to hanging, the first strip, we found it best to measure out the second panel based on the repeat. Line the pattern up and cut the second panel.
Before you apply the wallpaper paste, be sure to check the directions. Some wallpapers require you to add paste to the back of the paper. Some are pre-glued. This particular paper requires you to roll the paste onto the wall.
Carefully hang the first panel to the wall using the plumb line as your guide. Sweating and swearing will ensue…completely normal. Once you have the paper in place, smooth it out carefully with your hand and then with the wallpaper smoother to remove any bubbles.
If you get a bubble you can't remove, don't panic. Use the utility knife to slit the bubble. Using a syringe, squirt some glue into the opening. Deflate the bubble with a roller and wipe off any excess adhesive with a damp sponge.
Trim the excess paper from the first sheet using a straight edge and a utility knife.
Before hanging the second panel, line up the next few panels. It's much easier to match the repeat.
Now it's time to hang the second sheet. Roll the paste on the wall, and carefully butt the sheets up against one another. The Boy found it best to begin by lining up the pattern at eye level. Again, smooth the paper with your hand and then give it a good once over with the smoother.
Use the seam roller to ensure the edges are completely tacked down. If you encounter excess glue, wipe it off with a wet sponge.
If you encounter a small gap, don't fret. A pro wallpaper installer told me to touch up any seems with watercolor paint. And no matter how hard you try, you'll never match it perfectly. It's okay. The only person who will notice is you.