About a month ago I taught a class called Pinning For Success: Grow Your Business with Pinterest at South Loop Loft. Due to overwhelming interest, I've decided to do it again next Monday, November 7 from 6:00 – 8:30pm. So if you were on the fence last time around, completely missed it, out of town, or had to babysit your aunt's cats, you're in luck.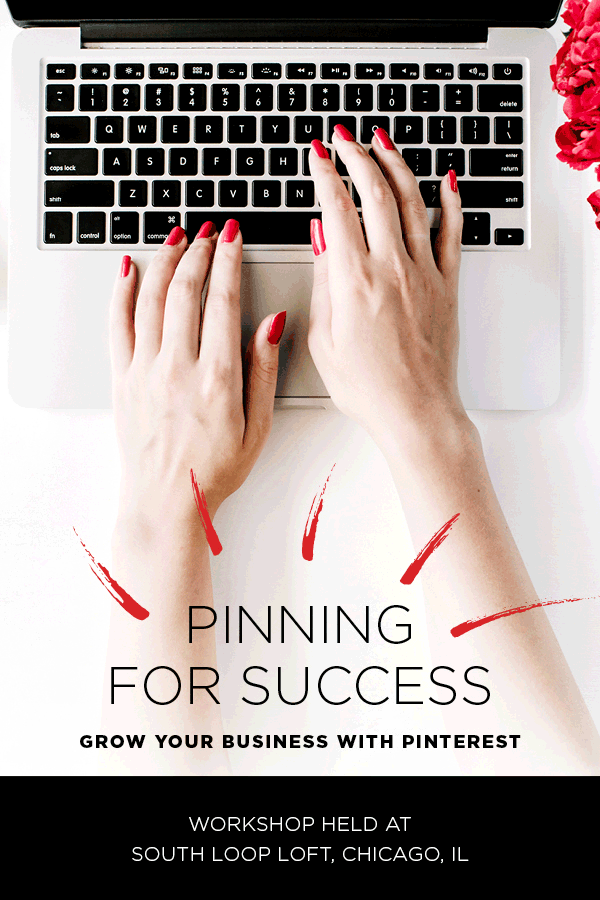 MORE AFTER THE JUMP…
One day I read Better Homes and Garden's major traffic driver was Pinterest. I'm sorry, what??? My jaw dropped. It was at that moment that I knew I needed to build my presence on this platform. After a few online classes and a whole lotta determination and trial and error, I grew my following from 4k to over 60k followers in 1 year and now use Pinterest shamelessly to grow my brand. Even Pinterest found me on Pinterest!
In this class, you'll learn how to: get found on Pinterest, build a pin properly, plan ahead, automate and schedule, set up Rich Pins, use Pinterest as an indirect selling tool, build a relationship with your audience, become an expert in your field, find group boards, get repinned, gain followers, and a whole lot more. See what Windy City Bloggers had to say about the class.
Pinterest is still in its early stages for marketing, so you need to maximize the platform before your competitors do. Be a pioneer and jump on the Pinterest train with me. Are you free November 7? Wanna learn more? Get crackalackin' and buy your ticket now.