I don't know about you guys, but for me, buying a planner is a big damn deal. There are certain things I that are must haves. View by month section and view by week section with a break out of days and hours. Added bonus for "to-do lists" and a notes section. A big plus if there's a pocket included. I like my planners to be fun. A little spunky, kinda like me. So today I've gathered up my favorite planners for 2015.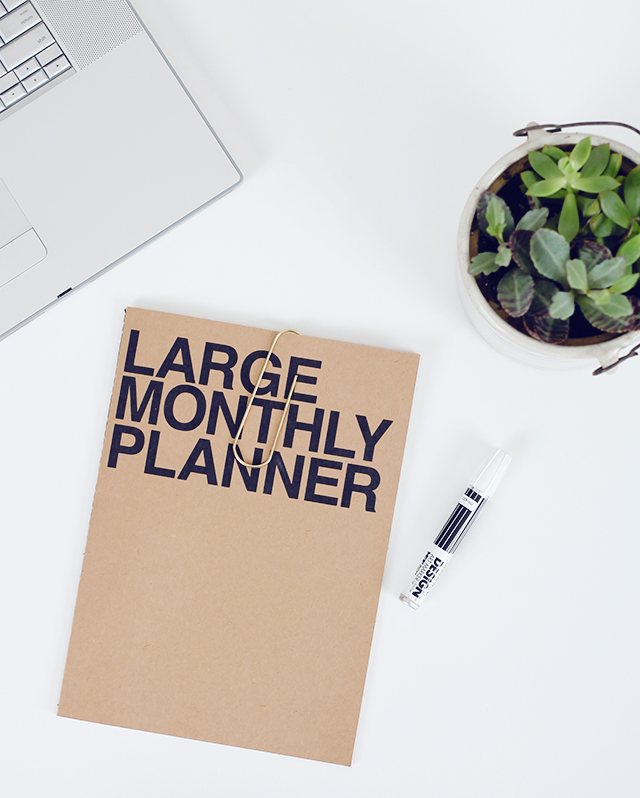 MORE AFTER THE JUMP
1. The Larger Monthly Planner is from Poketo, and it's turned into one of my favorites. It's a great way to see your month at a glance. And if you think the Large is too large, it is also available in Medium and Small. I use this in addition to my planner. It's like my tiny large sidekick. I use it primarily to keep the house on track. I know when The Boy is traveling and if daycare is closed.

2. The I Am Very Busy Planner from Ban.do is out of stock at the moment. But I've seen them bring it back. Be sure to sign up for the emails so you are notified when they are on the shelves. If you need one immediately, go here for a listing of stockists. This planner contains super cute quotes and fun drawings to make your day a bit brighter.
3. The Mon Cahier Planner brings out the the francophile in me. I actually bought this planner last year from Poketo right before is sold out. It's nice because you aren't locked into months. You fill it in yourself. Very streamlined, very clean. This year it comes in three colors, Navy, Moss and Coral.
4. Kate Spade nailed it with this one. The outer cover reads, "Throw Caution to the Wind". A great motto to live by. It's in stock at Paper Source. I love the gold polka dots on the interior.
5. Target does it again with this planner by Sugar Paper. I love the pink stripes and gold accents!
6. This colorful doozy by Jonathan Adler is bound to cheer up any gloomy day! Look at those colors!
7. Sarah Pinto uses a pattern I just love on rugs, so why wouldn't I like it on my weekly planner? I also love the pink! This one has a cool twist, some of the proceeds are given to a wonderful charity close to her heart. You can see the story here.
8. Shiny gold polka dots you say? Yes please! This gold foil confetti weekly planner can be found at Paper Source.
9. A black leather bound agenda planner with modern type? I'll take this 2015 planner from kikki.k any day! Plus, it's got a pocket on the inside. Bonus points!
10. On Etsy, I discovered a little shop called dozi. They have some super cute planners. This one is perfect bound with sewn binding, plus 18 lined pages in the back for notes.
11. Target! You're soooo cool! I couldn't chose between the two Sugar Paper planners, so I decided to round them both up! Again with the gold polka dots. Stop it already, will ya!
12. I swear, Kate Spade can do no wrong. Go get at this little polka dot number here.
13. So this puppy is kinda out of the box, but I use it…a lot. It's like an oversized stickie note. I like to stick mine on the bottom of my monitor. There's no commitment to it like a planner, it's just a plan as you want, when you need it.
14. Pink paint chips will brighten any gloomy cold Chicago January. This is another great alternative for those who need a calendar but can't commit to the full blown planner.
15. Rifle Paper Co. oh how you make my heart sing with your pretty, pretty, pretty floral patterns. Snap this weekly desk pad up here.
Phew! You guys are still with me! YEAH! That was a list, huh? Do you have a favorite? I think I want one of each. Well, I'll see you guys again in a few days. Happy planning!